**SPECIAL** 2023 Holiday Fluff Box; Limited Edition Magical Holiday
$

75.00
Sold out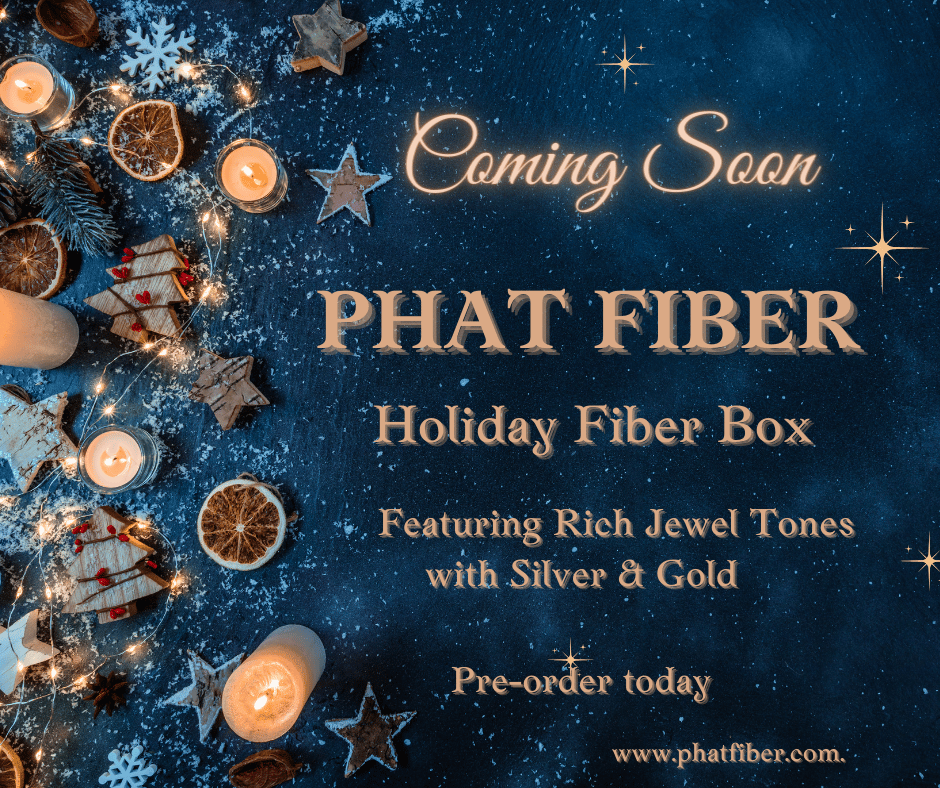 We're back! Back for the holiday's that is, we have missed you all so much that we wanted to curate something special just for you!
We've gathered up some of your favorite artists and may even include a new one to bring you this Limited Edition Holiday Fiber Fluff Box!
Give the fiber artist in your life a one of a kind holiday surprise, or buy this luxurious fibery gift for yourself!
What's included:
* 8 ounces of fiber from a combination of 4+ of our Phat Fiber Artists.
* A beautiful hand blown glass ornament by HD Glass in Oregon
* Free USA Shipping
You can expect to find a wonderful assortment of batts, rolags and braids including luxury fibers, dyed braids, special commercial blends and lovingly prepared farm wool. There's no guarantee of which artists will be included in your box, but we can guarantee that you will love it all!
Our inspiration theme is "Magical Holiday" and we are inspired by jewel tones; deep shades of navy, greens, burgundy and gold. Let's not forget the sparkle too, gold and silver!
Retail value of this box exceeds $100 but for our Phavorite Phat Fiber Phans it is only $75 shipped in the USA.
We only have a limited number of boxes available so it is best to pre-order so we make sure we've got one for you before they sell out.
Thank you for supporting our Phat Fiber Artists & we wish you all a wonderful holiday season.
The artists in the holiday packages will vary from the following:
Phat Fiber Blended Top
Curly C'Ewes
Handmade Hollows
Wild Hair Studio
SKJ Fibers
Plus Surprise Guest Artists
HD Glass Company
****Packages will begin shipping December 1st, just in time for the holidays****